United Arab Emirates Residency
How to obtain a residence permit in the UAE
About United Arab Emirates
Where is UAE?
The UAE is a federal kingdom in southwestern Asia and to the east of the Arabian Peninsula. In the Middle East, bordered by Qatar and Saudi Arabia to the south, Oman to the east, and the Iran to the north.
The UAE is a coalition of seven small sheikhdoms called Abu Dhabi (Capital), Dubai, Sharjah, Ajman, Fujairah, Ras al-Khaimah, and Umm Al-Quwain, which was formed on 2 December 1971 after independence from Britain. This day is celebrated as the UAE National Day. 

Each of the seven emirates enjoys considerable independence. Still, a successor emir serves as the country's ruler, and the High Council of Governors, consisting of seven emirs, elects the head of state and cabinet. The current Sheikh and head of government of the UAE is Sheikh Khalifa bin Zayed Al Nahyan.
Living in Dubai
Dubai can be considered one of the largest and most luxurious cities in the UAE, where living is exciting.
It is one of the most unique and unique cities in the Middle East, which is why many immigrants live in this city. It is interesting to note that about 80% of Dubai's population are immigrants, which is a record.
Living in Dubai or the UAE, in general, can be a fascinating experience, so many people want to get complete information about the city.
UAE Economic City
Dubai is the largest and most important city in the UAE, located in the southeast of the Iran, and can be considered one of the largest trade centers in the Middle East.
The economy of this city is very favorable due to oil extraction and international trade.
Dubai is the 22nd most expensive city globally, making life a little more complicated in Dubai. But, of course, I can say that you can afford the expensive costs with the right job.
It is the second-most populous city in the U.A.E. after Dubai. This city is an island very similar to the letter T. Abu Dhabi controls about 2/3 of the U.A.E. economy and is, therefore, an important city after Dubai.
Dubai is one of the most famous cities in the U.A.E. for buying property; many people buy a house in Dubai to invest and obtain a residence in Dubai. Under Dubai's new law, you can get a three-year U.A.E. residence by buying a house for at least 750,000 UAE dirhams.
You buy directly from many Dubai projects such as Emmar, Damac, Azizi Development, and many others approved by the UAE government. Sadaf House and Sadaf Investment Company, as your lawyer, handles all the purchasing and administrative steps.
Benefits of buying a home in the U.A.E. and Dubai
Obtaining residence in the U.A.E.
Living in the modern city of Dubai
Take advantage of the modern facilities of Dubai houses
It can be an excellent investment if purchased with economic insight.
One of the main conditions for registering a company in the U.A.E. and Dubai is to have an Emirati partner. It is not possible to register a company without an Emirati partner. If you intend to register a company in the U.A.E., 51% of the shares of your company must be held by an Emirati, and the remaining 49% can be held by a foreign shareholder.
It should be noted that there is no limit to the type of registration company in the U.A.E., and different companies can be registered according to the investor's request. There are no restrictions on the company's location, and applicants can register in Dubai, Abu Dhabi, Ajman, Sharjah, Ras al-Khaimah, Fujairah, and Umm al-Quwain.
Due to the wide range of international universities, the ranking, and the high academic level of many of them, the U.A.E. has suitable conditions for applicants to continue their education and obtain a residence permit in the U.A.E. Although the official language of the country is Arabic, English is used in education and business in Dubai, so applicants to study in Dubai must have an IELTS score of 6 or higher.
In United Arab Emirates you can find plenty of top-ranked universities that take their rightful place next to some of the biggest international university names out there.
United Arab Emirates's universities, colleges, medical schools, engineering schools, and law schools are highly respected and well-known in the education and academic communities, and they continue to offer prestigious Bachelor's, Master's, and Ph.D programs for bright, driven adventurers like you. Feel free to choose from some of the most competitive degrees in the best universities in the United Arab Emirates.
Best Universities in United Arab Emirates according to International Rankings
| Universities | Times higher education 2021 | Top Universities 2021 | U.S. News & world report 2021 |
| --- | --- | --- | --- |
| United Arab Emirates University | 301 | 288 | 763 |
| Khalifa University | 351 | 138 | 762 |
| University of Sharjah | 601 | 601 | - |
| American University of Sharjah(AUS) | 801 | 383 | - |
| Zayed University | 801 | 651 | - |
| American University in Dubai | - | 601 | - |
| Abou Dhabi University | - | 701 | - |
| Ajman University | - | 701 | - |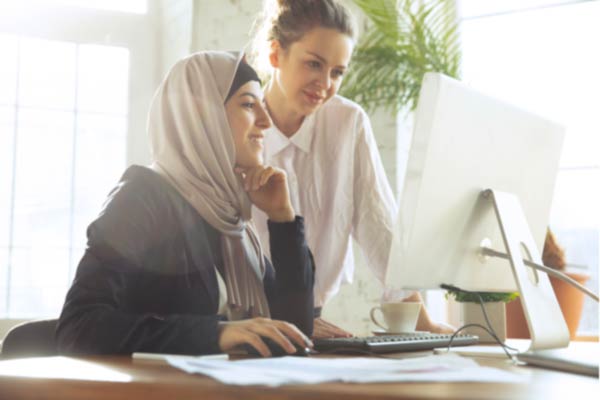 It is possible for all nationalities to obtain a residence permit in Dubai by finding a suitable job. But for some nationalities, such as Iranians, Syrians, Afghans, this type of residence only includes people who have a high degree, such as doctors and university professors, etc.
Steps to get a residence permit in UAE:
After proper consultation with Sadaf Company and selecting the type of investment, we will register the documents required to start the case.
At this critical juncture, you will receive approval from the UAE government and apply to reside in the country.
To get the UAE residency, you perform blood tests, chest X-rays and record biometric information such as eye scan and fingerprint.
After completing the previous steps, you will receive a residence sticker on the passport pages. Then, after a few working days, the government will send the UAE national identification card to you.
Also, after receiving your temporary residence in the UAE, you can get your family accommodation at a meager cost and enjoy the many benefits of this beautiful country.
Advantage of Uae Residency
Being a legitimate resident in the UAE will entitle you to: 
Open a bank account
Access financial facilities
Apply for a driving license
Access government health services and health insurance
Register the children in government or private schools
Work and invest in one of the safest countries in the world
travel visa–free to Azerbaijan, Maldives and GCC countries if you meet the required conditions.
What are the requirements for a UAE Residence Visa?
Your original passport
Your entry visa.
Birth Certificate
Marriage certificate
Eight passport-size pictures
6 Months bank Statements
The UAE Visa Application Form, obtained online or through the relevant typing center.
6 Months bank Statements.
Proof of your sponsor's legal residency / UAE citizenship.
Get your free consultation
If you are interested in applying for a UAE residency program, don't hesitate to contact us for a free consultation. Sadaf Investment is an experienced agent who can assist and guide you through all the steps of obtaining UAE residency.